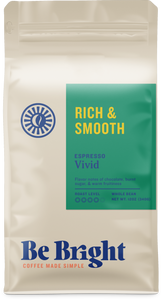 Be Bright Vivid Espresso | 12oz
Our signature espresso blend. Expect a vivid experience of flavors complimenting each other in harmonious fashion. While coffee components and flavors change seasonally, our Vivid Espresso delivers a balanced and deep espresso experience through and through.

Flavor notes of Chocolate, Burnt Sugar, & Warm Fruitiness
ABOUT THIS COFFEE

In designing our signature espresso, we look for coffees that pair harmoniously together above all else. Synergy, after all, is what makes a blend delicious. It's like the pick and roll, the give and go, or that euphoric moment when players in a band play 'in the pocket.' It's a beautiful thing when it all comes together and aligns to create synergy - the working together of two things to produce an effect greater than the sum of their individual effects.

We seek to find two coffees that can achieve that and for our first iteration of Vivid Espresso, we've found that dynamic match with coffees from Guatemala San Marcos and Colombia Cauca Especial. The Guatemala San Marcos brings to the table, a low tone sweetness we want to serve as the foundation and base for our espresso. Tasked with pairing that low tone sweetness comes the Colombia Cauca Especial, a coffee from the Cauca region brimming with a lovely acidity to help bring a dynamic aspect to this espresso blend.

Vivid Espresso is great on its own as a shot, but also really shines with milk. You can expect the flavors to combine with milk in a harmonious manner, cutting through the fats present in dairy and non-dairy milks. Also can perform well as a drip coffee, for those who enjoy coffees a little bit on the darker side. All things considered, we want to deliver a vivid and memorable experience with every shot of our signature espresso blend.