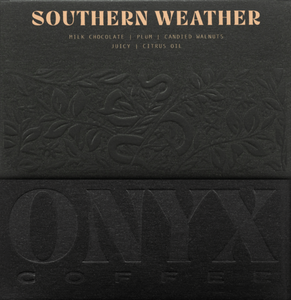 Onyx Southern Weather
Southern Weather is our great house coffee that you know and love. Creating a blend is like choosing a color palate for a canvas. For us, Southern Weather embodies the wonderful relationships between a citric acidity balance and wonderful, full-bodied chocolates. We serve this every day and find it comfortable, yet surprisingly complex and sophisticated. We brew this with all devices all day long, even as espresso!
Origin: Colombia San Antonio, Ethiopia Nano Genji
Washed
Cupping Notes: Milk Chocolate, Plum, Candied Walnuts, Juicy & Citrus Finish
STORY
Southern Weather was the first blend we ever created, and the plan was simple. We wanted something sweet, comfortable, and approachable in a world of polarizing Specialty Coffee. Something anyone would like and would be easy to control during extraction. We sell more of this coffee than anything else, and I think it's our commitment to keep the flavor profile intact. Sweet caramelized sugars, round full body, and a bright citrusy finish that leaves a clean, refreshing aftertaste. It pairs with any meal and works well with dairy and non-dairy milk. For us, Southern Weather embodies the excellent relationships between a citric acidity, balance, and wonderful, full-bodied chocolates. This is considered our house blend and we think it could be yours as well :)
BLEND APPROACH
Our approach to creating blends is a bit different at Onyx. Instead of choosing coffees from specific countries or regions that will, in theory, intertwine well to develop complex & cohesive flavors like most, we start from the end and work our way back. This perspective means we choose to create a particular flavor profile first - deciding which acidities, sugars, and fats we want to accentuate for the coffee. Once a flavor profile has been set, in this case, a very approachable citrus zest, milk chocolate, and candied nuts for Southern Weather. We then start cupping blind through a lot of coffees to find these specific attributes. For Southern Weather, the Colombian we use, Colombia Aponte Village, gives us sweetness and has perfect caramelized sugars, which come across as chocolate and nutty notes. Unique to Colombia is that it's the only coffee producing country with a year-round harvest due to unique microclimates found in the different regions of the country. We look to other coffees in season that exude high citric acid content and clean finishes to add citrus notes for acidity and slight bitterness for balance. Currently, that's Guatemala La Esperanza. Lastly, we add a floral and deeper fruit forward coffee to create complexity and a juicy candy-like finish. That coffee comes currently is the Ethiopia Guji Uraga.
The purpose is that once a flavor profile is created, we update the coffees that make up Southern Weather every 2-3 months. This allows us to have a year-round blend with a flavor profile of high quality while retaining our commitment to seasonal coffees. This vigorous amount of cupping and blending takes a considerable amount of time. But we really think it makes the difference and is a system we use for all our blends.
Feel excited that the coffee you are tasting is always in season, and therefore, it is cupping and tasting to its full potential. We will never compromise our commitment to high-quality coffees and blends, whether it's a single origin release or a blend component. You will not find Onyx buying "blender" coffees to save cost or prolong a good coffee. We also always keep blends to three coffees or less and maintain ratios in the build. This way what you extract is the flavor profile we designed.
Southern Weather has been a staple since our company's inception, and we tend to think of it as our comfort coffee. Despite age, background, coffee experience or brew method, this coffee always seems to please.