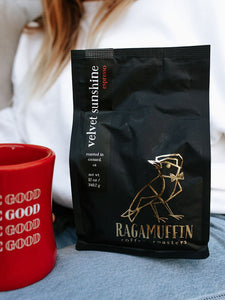 Ragamuffin Velvet Sunshine | 12oz
WE CAPTURED THE VELVETY SMOOTH RAYS OF CALIFORNIA SUNSHINE AND TO CREATE THIS ESPRESSO BLEND.
TASTING NOTES: FUDGE BROWNIE, BAKING COCOA, CLEMENTINE

A seasonal rotation perfect as espresso but also delicious as a brewed cup. "Velvet Sunshine" is a blend of Brazil honey process, Honduras washed process and Ethiopian natural process coffees.